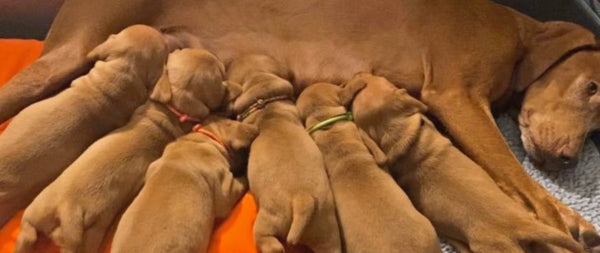 Breeder Puppy Packs
Responsible breeders spend so much time carefully planning a litter, preparing for the welp, and devoting the necessary time and resources to raise the puppies. Vida Spring Raw has recently partnered with some breeders to take one burden off of their shoulders - the going home bag! We carefully curate USA made, ethically sourced, durable and effective products that help provide a strong foundation and a fun collection to share with puppy homes.
Treat Well
Puppies love to chew! We recommend healthy chew options in the bag, so new puppy parents have something ready to offer.  Our most popular option is an assortment of chews we call the "puppy pack sampler" (see image).  Puppy homes love trying a variety of things they would often have to purchase in a larger bag.  Some breeders have opted to just purchase a whole bag of one of the treats that pair well with a toy they are also offering.  For example, a bag of VE small bully sticks with a small West Paw Qwizl.  
Play Often
Puppies need to play! It makes them both mentally and physically tired.  We recommend either a chew toy that can have treats added to it, or a soft toy than can be cuddled. The West Paw small Qwizl can hold cod skins, salmon rings, or freeze-dried hearts. The small Toppl can hold peanut butter, smashed banana or frozen kefir, and is an easier to clean alternative to a kong. The new West Paw Funnl was designed to hold a No-Hide chew. Plus they are non toxic, made in the USA, and come with a guarantee. Cycle Dog, another USA based eco-friendly company has a small duraplush bone, medium springy thing and small fuzzball that would be great plush options to include.
Save Money
For the breeder, we offer a discount if a toy is bundled with a puppy sampler pack or bag of treats. New puppy parents appreciate the opportunity to save money, too, so we include a personalized coupon in the puppy pack for a one time discount of 10% off all non food products from our store good for 4 months.   
Offering new puppy parents a foundation of healthy, durable USA made products can be one less thing breeders need to worry about when preparing to send puppies home.  Let Vida Spring Raw put together a custom pack for you.  Everyone loves to Treat Well, Play Often and Save Money! 
Take a look at some of the products discussed in the post, and reach out to Vida Spring Raw if you are interested in putting together a breeder bag for your next litter. Order puppy packs here.
If you are looking for a beautiful bag to put your puppy packs in, check out Chandler Sharpe's custom bags with your dog's profile featured on the bag and support another small woman owned business!